When it comes to veterinary medicine, accurate diagnostics are crucial for the well-being of our furry patients. Our veterinary team at Probo has experience with many brands of ultrasound machines. We evaluated the current equipment on the market and chose our top two picks for the best veterinary ultrasound machines of 2023. For overall best imaging, ease of use, and advanced features, we recommend the Mindray Vetus E7 and Mindray Vetus 9 ultrasound systems. Yes, we are the top ultrasound distributor for Mindray in the world so you might think we're biased but that's not the case! Our team has experience with many different manufacturers and chose to represent Mindray Animal based on their commitment to designing high-quality machines at affordable prices, plus they offer some of the longest warranties on the market. The Mindray Vetus E7 and Vetus 9 ultrasound machines have taken the veterinary world by storm in 2023. These systems are redefining what it means to provide premium care thanks to their advanced features, versatility, and user-friendly design. In this article, we'll dive into why these machines are the go-to choices for veterinarians nationwide.
Deciding which system is best for you is determined by the main differences between the Vetus E7 and Vetus 9. The Vetus E7 is a portable system while the Vetus 9 is a console or cart-based system. The Vetus 9 does have more advanced features, so if you're at a larger veterinary hospital that needs to do high-level cardiac and abdominal imaging, this is the machine we would recommend. If you're at a smaller practice and need an ultrasound for general imaging, repro, and some cardiac assessments, we recommend the Vetus E7. On a side note, if you need an advanced cardiac imaging option but must have a portable solution, check out the Mindray M9 Vet (one of Mindray's flagship ultrasound models).
Advanced Imaging Technology
The Mindray Vetus E7 and Vetus 9 run on Mindray's Zone Sonography Technology (ZST+) platform. Why should you care? In traditional beam-forming technology, acoustic data is acquired line-by-line and focused with a digital beamformer using only a small fraction of the information in the data set. ZST+ captures and utilizes more information in the larger returning acoustic data set. Advantages include faster image processing for noticeably improved temporal resolution and image uniformity throughout the field of view with improved spatial and contrast resolution. These advanced imaging technologies mean higher-quality images and better diagnostic outcomes for your patients.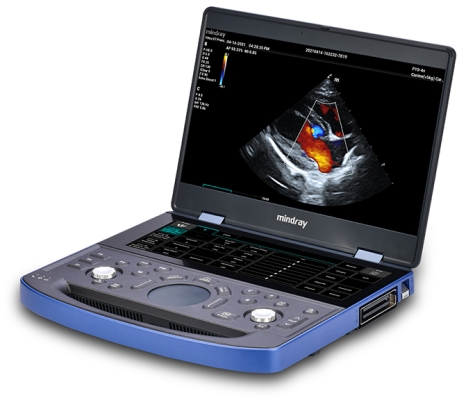 Versatility with a Wide Range of Applications
One size does not fit all, especially in veterinary medicine. Luckily, the Vetus E7 and Vetus 9 are versatile veterinary ultrasound machines. With a wide range of transducers, these machines can handle anything from tiny critters to big farm animals. The Vetus 9 also has two Single Crystal probes in its arsenal for high-end abdominal and cardiac imaging. While the Vetus E7 doesn't currently run Single Crystal probe technology, it does have several cardiac probes to choose from. Both systems include micro-convex for small animal, convex for large animal, and linear for small parts/msk. The Vetus E7 has an intrarectal linear for reproduction but the Vetus 9 does not. Whether you're doing AFAST, TFAST, cardiac assessments, or reproductive work, these ultrasound systems have you covered for all veterinary imaging applications.
Streamlined Workflow and Intuitive Interface
Veterinary professionals don't have time to fumble with complicated controls. The Vetus E7 and Vetus 9 were designed to be user-friendly. If you are familiar with Mindray ultrasound machines, you know they have easy navigation and straightforward reporting. The Vetus E7 and Vetus 9 are also dedicated veterinary ultrasound machines, not ultrasound machines designed for human imaging that were converted for veterinary use. These machines include one-touch presets for all species and weights and a quick switch/selection of probes. They also include iWorks and iScanhelper software. iWorks is a scanning protocol software that shows you the next step in the exam. iScanhelper will also inform you where to position your probe for the type of scan you have chosen to perform. These software features along with the auto-optimize and measurement tools will maximize exam time and your diagnostic confidence.
Advanced Features and Clinical Tools
The key features that both the Vetus E7 and Vetus 9 include are Auto EF, Auto PW/CW, iClear, and iTouch. iClear automatically clears the parenchyma noise and sharpens the tissue border. iTouch automatically optimizes the angle and gain of pulse wave Doppler. The Vetus E7 and Vetus 9 both can auto-calculate CW and PW by automatically tracing the spectrum and calculating. Auto EF automatically recognizes diastole/systole frames and outputs the EDV, ESV, and EF measurements. You don't have to worry about getting accurate measurements because these tools will do it for you. If you're not happy with the auto measurement, you can easily correct it manually. Other advanced software features include iNeedle enhancement technology, iVocal command for hands-free operation, and UWN+ Contrast Imaging for enhanced contrast imaging capability. The Vetus 9 also has the option to add Shearwave elastography for tumor analysis, left ventricle opacification contrast, and myocardium contrast imaging.
Connectivity and Data Management
We live in a digital age, and veterinary practices need to keep up. Luckily, the Vetus E7 and Vetus 9 can deliver the technologies you need. These machines offer seamless connectivity with wireless internet built in and both include DICOM Basic and Worklist. The Vetus 9 also includes DICOM MPPS and Query Retrieve, these options are available to equip on the Vetus E7 as well. These technologies will allow you to effortlessly share images and collaborate with other veterinary professionals, saving lives has never been so connected!
We hope this post on the best veterinary ultrasound machines of 2023 was informative and will help you decide in your purchasing process. If you would like a live online demonstration, please contact us today to schedule one with our dedicated veterinary team. We carry Mindray Animal's full line of veterinary ultrasound machines and can help you find which one best suits your needs based on budget and imaging requirements. We're sure we can find the perfect machine for your practice at an affordable price. Plus, Mindray Animal's machines and probes include long-term warranties from 3-5 years! Probo is determined to offer the best ultrasound prices and service, contact us today for a quote or online demo!