Probo Medical is an Authorized Distributor of Mindray Animal Ultrasound Products
When it comes to purchasing Mindray Animal ultrasound machines, Probo Medical is the authorized distributor you can count on. We offer competitive pricing, flexible financing options, and comprehensive support services, making Mindray Animal ultrasound machines affordable for veterinary practices of all sizes. As the largest Mindray distributor, Probo Medical ensures that you get unbeatable prices on ultrasound equipment.
When it comes to veterinary medicine, accurate diagnosis and monitoring of animal health are vital. Mindray Animal has established itself as a leading manufacturer of medical veterinary equipment. Their veterinary ultrasound machines offer long-term warranties, excellent image quality across all modalities, and high durability.
Mindray Animal offers a wide range of veterinary ultrasound machines to cater to all your diagnostic needs. These systems are utilized by veterinarians worldwide, enabling them to provide accurate diagnoses, personalized treatment plans, and above all compassionate care for their patients. With Probo Medical, you will receive competitive prices for these advanced technologies as we are an authorized dealer of Mindray Animal ultrasound machines.
Mindray DP Vet Series & Z60 Vet:
The Mindray DP Vet series includes the DP-10 Vet, DP-30 Power Vet, and DP-50 Vet. We're also including the Mindray Z60 Vet here because it is the same clam-shell design and has similar software features as the DP-50 Vet with a couple of exceptions discussed below. All of these machines include a 3-year warranty from Mindray Animal. The Mindray DP-10 Vet is the most affordable veterinary ultrasound machine from Mindray Animal. It's a great starter system and is especially perfect for equine breeding season. It has a smaller monitor (12.1") with black and white imaging only but is compact and very affordable with one or two probes. The Mindray DP-30 Power Vet is similar in size but has better imaging, the option to add power Doppler mode, and is also a great starter system. The Mindray DP-50 Vet, arguably Mindray's most popular black-and-white portable system, has a 15-inch monitor, better imaging, and the option to add color mode. It also comes standard with Power, Directional Power Mode, and Pulse Wave imaging. Finally, the Z60 Vet looks exactly like the DP-50 Vet but is a color system with different probe models that do have better imaging, however, both those features equal the price doubling (understandably so). All of these veterinary ultrasound machines are great options, depending on your budget and needs.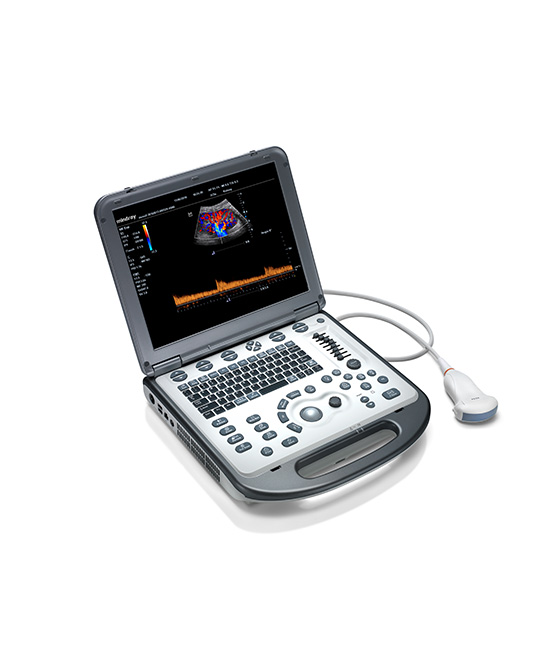 Mindray M6 Vet:
The Mindray M6 Vet is a color portable system with a 5-year warranty. The M6 Vet is a true work-horse machine and has the most features for its price range. Highlighted features include a full suite of high-quality imaging probes (most of the same models that run on the M9 Vet minus the single crystal cardiac probe) and advanced optional functions like Real-time Panoramic Imaging, Anatomical M-mode for EF measure offline, iNeedle needle enhancement visualization, and Tissue Doppler Imaging. The laptop-style system is great for companion animal to equine imaging. The Mindray M6 Vet lacks Mindray's newest technology like the ZST+ platform, however, it makes up for it with the long-term warranty, multitude of functions, and high-quality imaging probes all at a truly affordable price.
Mindray M9 Vet:
The Mindray M9 Vet is the flagship portable cardiac ultrasound machine from Mindray Animal. This machine offers advanced imaging features including high-quality CW imaging, TDI and quantitative analysis, auto measurement of pulse wave and ejection fraction, and tissue tracking quantitative analysis for advanced myocardial studies. With a wide range of specialized transducers and advanced imaging modes, the M9 Vet supports comprehensive examinations across various veterinary specialities, especially cardiology, abdominal, and musculoskeletal imaging.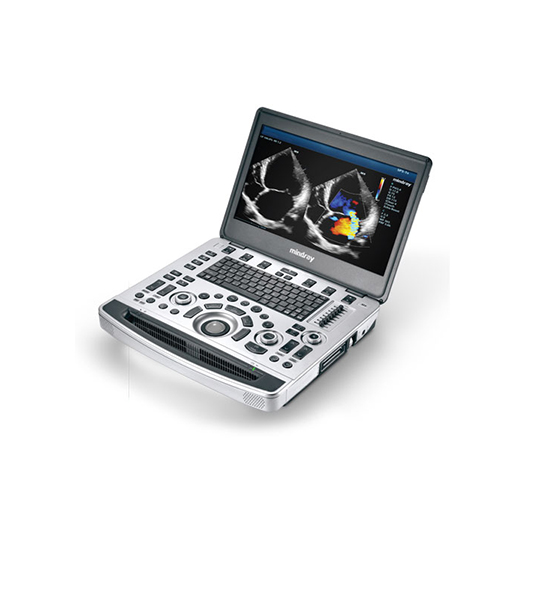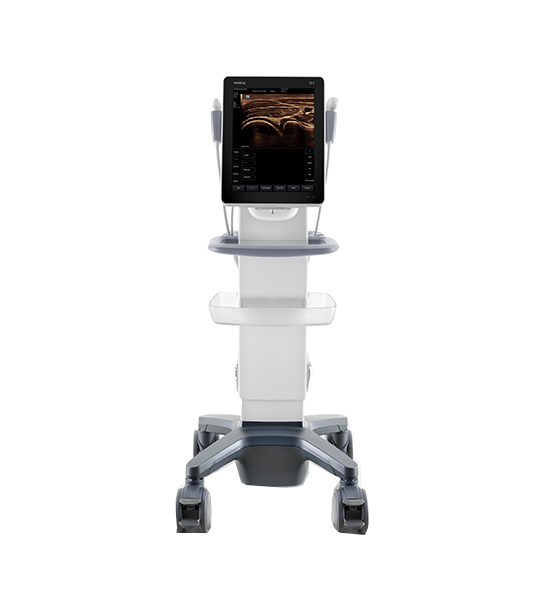 Mindray TE5 Vet:
The Mindray TE5 Vet is a user-friendly veterinary ultrasound machine that offers high-quality imaging capabilities in a portable package. Its easily cleanable design and software features make it ideal for critical care and emergency applications. Equipped with software technologies like iNeedle and Echo Boost, this machine enhances needle visualization during procedures and provides exceptional cardiac imaging for accurate diagnosis and monitoring. The receptive touchscreen makes tasks more efficient for the user, however, this system has no keyboard.
Mindray Vetus Series:
The Mindray Vetus series includes the Vetus E7, Vetus EQ, Vetus 7, and Vetus 9. These versatile veterinary machines offer excellent image quality and advanced software features. The Vetus line comes with Mindray's well-known customizable settings and user-friendly interfaces for efficient examinations. The Vetus E7 and EQ are both portable laptop-style systems with color imaging. The Vetus E7 is currently the most popular portable veterinary ultrasound machine on the market today. The Vetus EQ is the same as the E7 but is strictly for equine imaging applications only. As for the console machines, those are the Vetus 7 and Vetus 9. Equipped with anti-hair wrapped wheels, sealed keyboards, and one-touch presets by animal species and size, these were designed with veterinarians' needs in mind. The differences between the Vetus 7 and 9 are all in the image quality and software features. The Vetus 7 is great for practices that have a strict budget but want a console machine. The Vetus 9 is Mindray Animal's newest console system and offers the most advanced software features and probes, plus it is equipped with Zone ZST technology. Overall, we highly recommend taking a serious look at the Vetus series, they are Mindray Animal's newest machines with the most features. Read our in-depth blog post on the best veterinary ultrasound machines of 2023 on the Vetus Series here.
Versatility:
Versatility is another key advantage of Mindray Animal ultrasound machines. They cater to a wide range of veterinary applications, meeting the unique needs of different animal species. Whether it's companion animals, livestock, exotic animals, or wildlife, Mindray offers specialized probes and software options to fulfill various veterinary ultrasound requirements. These versatile machines support comprehensive diagnostic capabilities across different veterinary disciplines, including abdominal ultrasound, cardiac ultrasound, musculoskeletal ultrasound, and reproductive examinations.
Accessibility:
Mindray Animal ultrasound machines offer cost-effective alternatives to other veterinary imaging technologies like computed tomography (CT) scans or magnetic resonance imaging (MRI). While CT and MRI are powerful diagnostic tools, they often come with high costs and are less accessible for many veterinary practices. Mindray Animal ultrasound machines provide a cost-effective imaging solution without compromising diagnostic accuracy and quality.
Affordability:
Affordability is key when choosing equipment for your veterinary practice. Mindray Animal veterinary ultrasound machines are affordable and include long-term warranties on their systems and probes. The long-term warranty gives you peace of mind if your equipment does go down, even though these are some of the most reliable veterinary ultrasounds on the market.
Efficiency:
Efficiency is crucial in any veterinary practice, and Mindray Animal veterinary ultrasound machines enhance workflow efficiency to save you valuable time. With user-friendly interfaces, customizable settings, and intuitive controls, veterinarians can quickly perform ultrasound examinations, leading to efficient patient management and increased productivity. Reduced procedure time also means more animals can be attended to within a given timeframe, benefiting revenue and the overall quality of care.
Why Choose Mindray Animal?
Mindray Animal Veterinary Ultrasound Machines stand out from their competitors due to their exceptional image quality. Mindray Animal is known for delivering clear images, allowing veterinarians to visualize intricate details with clarity. Their image quality ensures accurate assessments of superficial structures within an animal's body, enabling precise diagnoses and treatment planning.
Mindray Animal ultrasounds provide veterinarians with detailed real-time imaging, enabling targeted diagnosis and treatment planning. This accuracy helps avoid unnecessary exploratory surgeries, which can be costly and invasive. By visualizing internal structures and organs in real-time, veterinarians can make informed decisions regarding further diagnostic tests or treatment options, enabling cost-effective and personalized care for their animal patients.
Invest in Mindray Animal veterinary ultrasound machines and reduce your practice's reliance on external imaging services, which often require referrals and incur additional costs. With ultrasound machines readily available in-house, veterinarians can conduct timely examinations and make informed decisions without the need for costly referrals. Streamlines your diagnostic process to reduce overall expenses for your clinic and your clients. Contact us today for a no-hassle quote.