Abdominal ultrasound is used to look at organs in the abdomen and the blood vessels that lead to the organs, so you want an ultrasound machine that captures clear images for you to diagnose with confidence. Some of the best ultrasound machines for abdominal ultrasound imaging tests include the higher-end GE Voluson E10 and more budget-friendly GE Logiq S8 with XDClear 2.0! If you need a portable option, the GE Logiq e BT12 is also highly recommended. In this article, we also share which compatible probes for each system are best for abdominal ultrasound tests. Remember, the national average unadjusted reimbursement for an abdominal ultrasound with real-time image documentation (limited) is as much as $114.46 per scan.
Best Ultrasound Machines for Abdominal Ultrasound
GE VOLUSON E10
The GE Voluson E10 is a premium ultrasound system from GE. This ultrasound system allows you to transfer data 10x faster with 4x the processing power. Like the E6 and the E8, the E10 comes standard with the flagship Voluson applications like:
HDLive, HDLive Silhouette, and HDLive Flow
SonoBiometry, SonoAVC follicle, SonoVCAD heart
Advanced STIC and eSTIC
Anatomical M-Mode
Tricefy Inside
However, the E10 comes with even more features to help any physician perform exams that go beyond strictly Women's Health applications, like:
Bi-Plane Mode
Steerable CW
Advanced Fetal Echo
Elastography
Elastography Analysis
Elastography Ratio Measurement
High-Performance Transvaginal Probe
GE LOGIQ S8 XDCLEAR 2.0
Created with performance and price in mind, the GE Logiq S8 with XDClear 2.0 is lightweight, portable, and can perform the high-quality GE Logiq S8 XDClear 2.0 abdominal imaging scans that you need. This version of the GE Logiq S8 is enhanced with GE's XDClear 2.0 imaging architecture and probe technology that allows for image quality across a variety of ultrasound scans. The S8 XDClear 2.0 comes with the ability to add FibroScan technology, which allows you to see and quantify liver disease in one easy-to-perform scan, and enhanced B-Flow imaging, which can image small blood vessels.
New to the S8 XDClear 2.0 is S-Agile Acoustic Architecture. S-Agile is a proprietary image acquisition platform that dynamically optimizes image acquisition for virtually any body type you're trying to scan, making even the most difficult to scan patients easier and faster to scan.
The GE Logiq S8 with XDClear 2.0 also has productivity enhancements including a more intuitive keyboard, a large 10.1″ touchscreen, and built-in automation tools. Some of the available automation tools include:
Power Assistant with an option for Mobile Scanning
Scan Assistant
Compare Assistant
GE Raw Data
Auto TGC
And many more!
Additional options to add to the machine include:
FibroScan
2D Shear Wave Elastography
3D Volume Navigation
Contrast Enhanced Imaging (CEUS)
Cardiac and Color Doppler
And many more!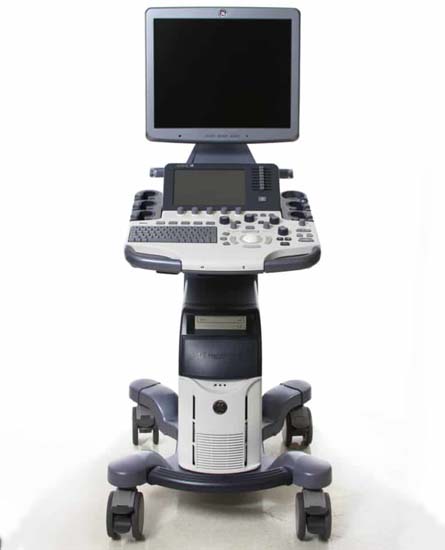 GE LOGIQ E BT12
When it comes to point of care ultrasounds, the Logiq E BT12 is top-of-the-line and has the capacity to grow with your practice. Despite its GE Logiq e BT12array of advanced features, the BT12 is user-friendly and has a large screen for an easier and more accurate diagnosis. It even comes with presents for abdominal imaging!
The GE Logiq e BT12's 15" high-resolution LCD monitor enables you to not sacrifice portability for quality. Its collaboration of features generates a clear image, particularly for abdominal imaging, but also for cardiac, OB/GYN, musculoskeletal, and vascular imaging.
The notable features that enhance abdominal images include SRI Speckle Reduction Imaging, which uses a special software algorithm to identify body tissue and eliminate artifact, and coded harmonic imaging, which allows the ultrasound to use a combination of high and low frequencies to better identify body tissue.
Best Ultrasound Probes for Abdominal Ultrasound
The best ultrasound probes for an abdominal ultrasound with the GE Voluson E10 are the C1-5-D, RAB6-D, and eM6C (for the BT16 and up). The GE C1-5-D is a convex probe with a bandwidth of 3-5MHz, making it perfect for deeper scans. It's compatible with a variety of systems and can also be used for OB/GYN scans. The RAB6-D is another great option as it's a convex 3D ultrasound probe with a 2-8MHz bandwidth which is great for deeper scans and more versatile than the GE C1-5-D. The GE eM6C is GE's new 4D matrix volume probe for the Voluson E10 BT16 and up.
The best ultrasound probes for abdominal imaging with the GE Logiq S8 with XDClear 2.0 are the C1-6-D and RAB6-D probes. The GE C1-6-D is a convex probe with 1.5-6MHz bandwidth, making it a great option for deeper scans. It's compatible with a variety of systems and can be used for renal, OB/GYN, pelvic, and fetal heart exams as well. The RAB6-D is another great option as it's a convex 3D ultrasound probe with a 2-8MHz bandwidth, so it's slightly more versatile due to its increased bandwidth.
For the GE Logiq e portable system, the GE 4C-RS wide-band convex array probe with 2-5.5 MHz bandwidth is a great option for abdominal images. For a larger bandwidth, the 8C-RS with a 4-10Mhz bandwidth will also capture clear, high-quality abdominal images.