GE's Logiq e portable ultrasound system is one of the most popular portable ultrasound systems on the market. The Logiq e has been a physician favorite since the BT06 release back in the early 2000s. It is a great ultrasound system for Point-of-Care, Anesthesiology, Rheumatology, Head and Neck, MSK, and more applications. Since its 2006 release, this portable ultrasound system has been updated and upgraded several times until it's latest two revisions. Logiq e BT12 and the NextGen Logiq e are the latest versions of this time-tested portable system. Read below to see how GE upgraded an already great ultrasound system to make it even more powerful and user-friendly.
GE LOGIQ E
An upgrade from the previous BT11 revision of the Logiq e, the BT12 version gets a software upgrade, at either 6.0 or 7.0 software levels, adding TDI (tissue doppler) and IMT (Intima- Media Thickness) to automatically measure carotids. The BT12 also gets a physical overhaul. Instead of the traditional slate grey color scheme and older traditional portable display that has been a staple of the Logiq e since 2006, the BT12 Logiq e gets a sleek black outer and inner-shell with a re-designed keyboard user-interface and LCD Display, along with a few more ports and accessories to boot.
GE LOGIQ E NEXTGEN
SOFTWARE DIFFERENCES
Like the BT12, the NextGen Logiq e also got a software upgrade, meaning that the NextGen has a higher image quality, system response time, and more features than the BT12. The NextGen software level starts at 8.0 or 9.0. These Next Generation Logiq e's are also referred to as either R6 or R7, as GE stopped using the BT-Level nomenclature.
Options available on the GE Logiq e NextGen include: 3D, LogiqView, Needle Recognition, Stress Echo, eSmart Trainer, Auto IMT, DICOM 3.GE Logiq e NextGen used ultrasound system for sale point of care0, Flow Quantitative Analysis, Patient Follow-up tool with fusion, M-Color Flow mode, Anatomical M-Mode, TVI/TVD, High-Res PDI, and Ophthalmic.
HARDWARE DIFFERENCES
NextGen GE Logiq e's look almost identical to the BT12 Logiq e. There are only two main physical differences. One difference is the GE Logiq e NextGen has three USB ports instead of two. The only other physical difference is the badge saying "Logiq e" on the NextGen is black, while it is silver on the BT12 configuration. This latest version of the Logiq e also comes with the ability to use a wider variety of GE's newer compact RS probes.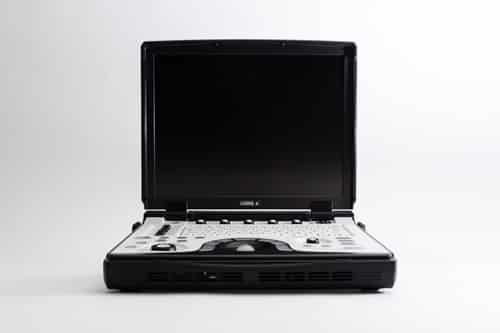 HAVE QUESTIONS ON THE GE LOGIQ E?
If you're not sure what the differences between the GE Logiq e BT12 and NextGen are, call Probo Medical at 866-513-8322. Fill out a form here or call us today and take advantage of our current new and refurbished ultrasound system promotions!