Live 3D/4D imaging is a necessity today for OB/GYNs and other women's health physicians. This imaging feature provides your patients with more personal experiences with their unborn baby. The detail it captures and projects enhances the baby's features to look more lifelike than ever before! It is especially important in searching for prenatal defects and other complications in late-stage pregnancies. Aside from abdominal scans, Live 3D Imaging can also be used for increased clarity of vascular structures and heart flow to better facilitate a more complete understanding of exam results. There are several different brands that feature this Live 3D scanning capability, but which brand provides the best 3D ultrasound imaging capabilities? Below, we'll look at the Top 3 Ultrasound System manufacturers and their systems to see which live 3D software is the best!
1. GE VOLUSON EXPERT-SERIES WITH HDLIVE
The GE Voluson Women's Health Ultrasound System line has been a time-tested favorite in the ultrasound industry. Since the GE Voluson 730 launched GE's HDLive software, the Voluson line has served women's health physicians around the world. HDlive is a rendering method that produces extraordinarily realistic images of the human fetus and other structures from sonographic data. By using an advanced illumination model, HDlive supports advanced skin rendering techniques, shadows, and a virtual light source. This technology utilizes the leading image quality provided by the most recent generation of beamforming technology, speckle reduction algorithms, and compound resolution imagines technologies. HDLive is available on the GE Voluson S-Series and E-Series ultrasound systems. However, we believe that HDLive looks the best on the GE Voluson E8 BT16 and GE Voluson E10 10 BT16 and newer systems. You can even 3D print the fetus from these next-generation GE Voluson ultrasound systems.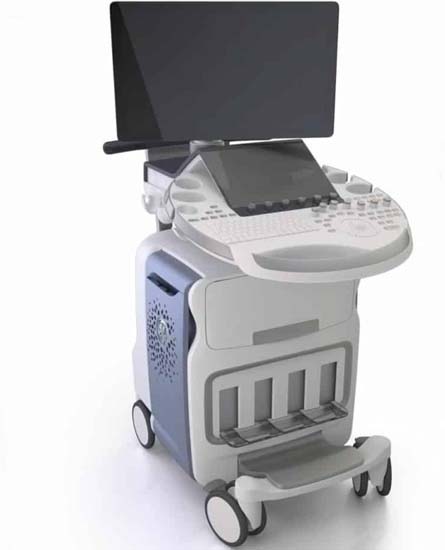 2. PHILIPS EPIQ 7W WITH X-MATRIX
xMatrix is Philips's innovative 3D ultrasound transducer technology. At the touch of a button, the Philips xMatrix ultrasound probes can switch between 2D, 3D/4D, Live 3D Echo, Live xPlane, Live 3D Zoom, Live 3D Full Volume, color Doppler, and many more modes all in one probe! This xMatrix technology looks best on the Philips Epiq 7 with xMatrix probes. These probes support a wide range of clinical applications like OB/GYN, but adult and pediatric cardiac exams are their specialties. The Philips Epiq 7W Women's Health Ultrasound system utilizes matrix transducers better than any other Philips system on the market. Combined with Philips TrueVue advanced 3D ultrasound display, these xMatrix probes on the Epiq 7 deliver amazing lifelike 3D images that can improve diagnostic confidence in hard to scan patients.
3. SAMSUNG UGEO WS80A WITH FRV
Samsung's Advanced Feto Realistic View or FRV is their version of Live 3D imaging and the most similar to GE's HDLive on the market. Advanced FRV looks the best on the Samsung UGEO WS80A Women's Health ultrasound system. It is a perfect addition to any OB/GYN medical office. It is Samsung's premier OB/GYN system with advanced diagnostic and 4D imaging capabilities. This high-performance platform utilizes advanced technologies, like FRV and EZ Exam, with its advanced diagnostic and 4D imaging capabilities to deliver an exceptional image in no time at all. These features enable medical professionals to provide accurate and reliable results to their patients and increase company productivity.