Looking for the best cardiovascular ultrasound machine for your budget? Here's the 2023 guide to the best systems available from Probo Medical. Our goal is to get you the best system for your needs, so we've put together this cardiovascular ultrasound buyers guide for you. We have a full team waiting to help you find your perfect ultrasound match, from our highly experienced sales team to our applications, service, and support team, you'll get a quality experience, quality relationship and a quality product.
I've broken this cardiology section into five categories based on ultrasound price and performance: premium, mid-range, basic, budget, and portable. With our collective experience in applications training, clinical use, and our own internal testing of a wide variety of ultrasound machines, we put together this list of the best cardiology ultrasounds for you.
Watch My Cardiovascular Buyers Guide Review
Below are the systems highlighted in our cardiovascular buyer's guide video to help you find the best ultrasounds for the price:
Best Premium Cardiovascular Ultrasound Machines: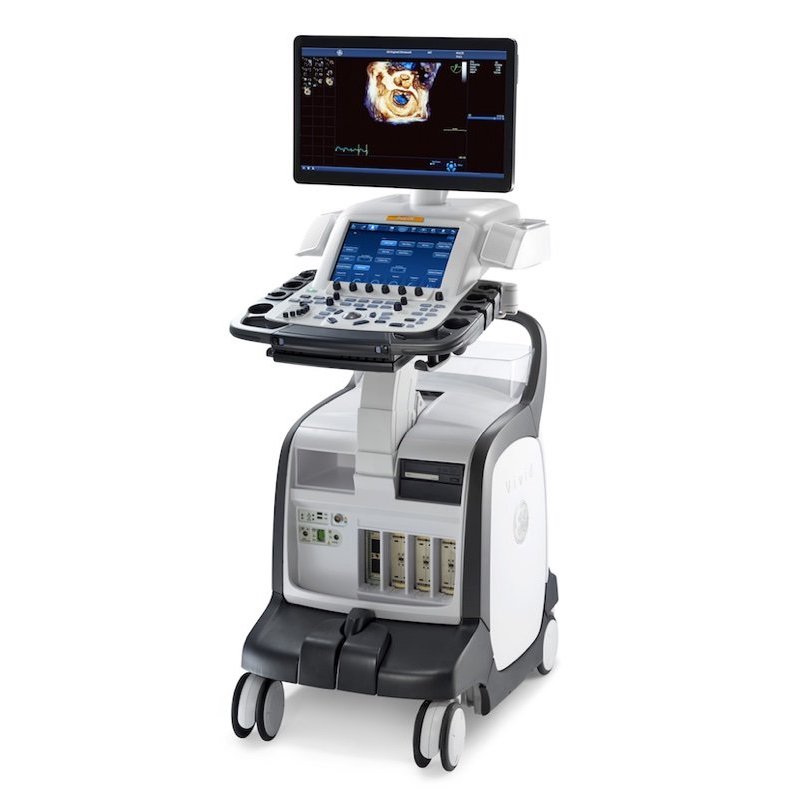 GE Vivid E90
The GE Vivid E90 features GE's newer technologies and advances in cardiac ultrasound. As with other Vivid products from GE, this is a premium cardiovascular ultrasound machine that can also be used for shared services. The Vivid E90 has host of advanced features, including single crystal probes, upgraded hardware and software including an upgraded cSound architecture.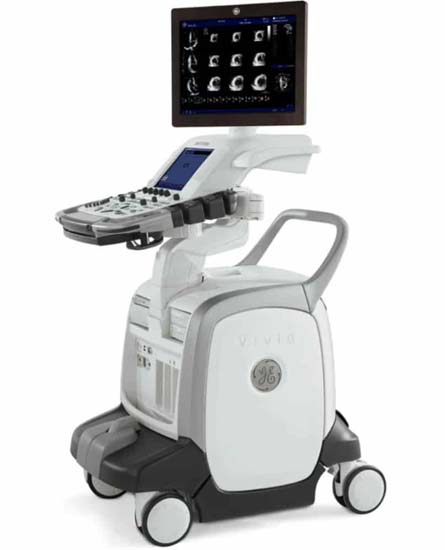 GE Vivid E95
The refurbished GE Vivid E95 premium cardiovascular ultrasound machine features GE's latest technologies and advances in cardiac ultrasound. It is considered by some to be the best machine on the market. The Vivid E95 has a host of advanced features, including single crystal probes, advanced 4D multiplane cardiac and cardiac TEE imaging, as well as improved cSound architecture upgraded from its predecessor the GE Vivid E9.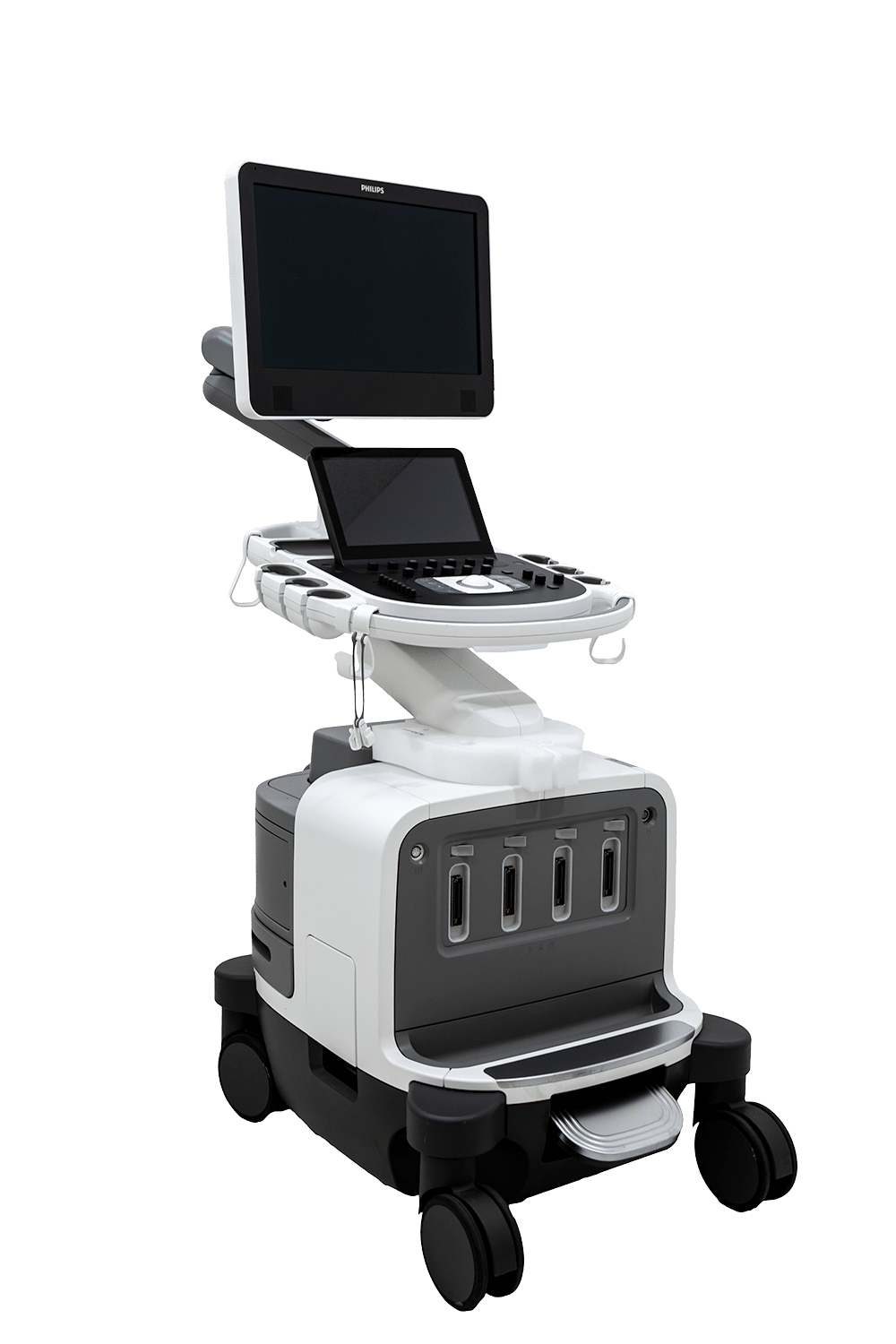 Philips Epiq CVx
the Philips Epiq CVx comes with an impressive, upgraded OLED display, providing sharp and clear visualization thanks to its increased dynamic pixel range and improved contrast ratio. The Epiq CVx also features faster data processing than previous models, sharper imaging, robust automated quantification, and customizable exam tools designed to help cardiologists deliver better care for their patients.
---
Best Mid-High Range Cardiovascular Ultrasound Machines: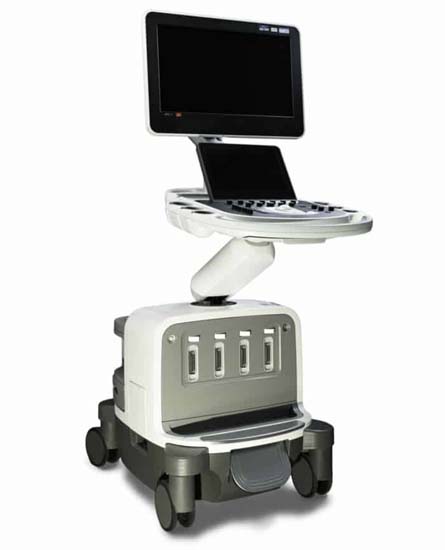 Philips Epiq 7
The Philips Epiq 7 ultrasound machine is a premium cardiovascular ultrasound machine well-known in the industry for its high-end performance. The key new technology found on the Epiq 7 is what Philips calls "nSIGHT". This represents a fairly significant difference in penetration, resolution, and processing power over previous ultrasounds. This machine did not disappoint when it delivered vastly improved image quality, penetration, processing power, ergonomics, and exam assistants.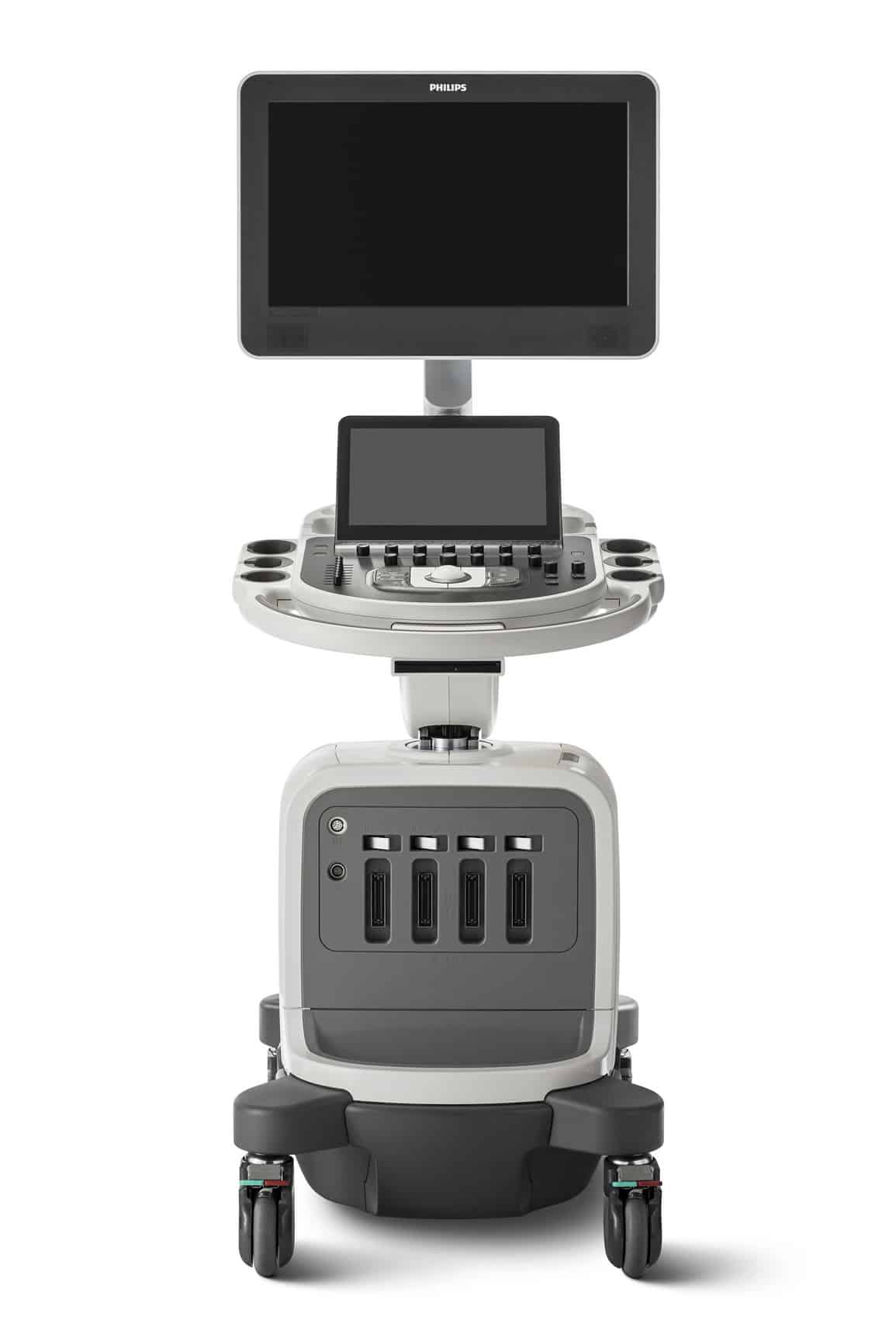 Philips Affiniti 70
The Philips Affiniti 70 is a very popular option for those performing studies other than simply cardiovascular options. The Affiniti 70 offers slightly more technology than other Philips models, such as Shear Wave Elastography and Strain elastography. However, its main drawback is a lack of a physical keyboard. While there are workarounds by using a third-party keyboard, it's a clunky option and not recommended.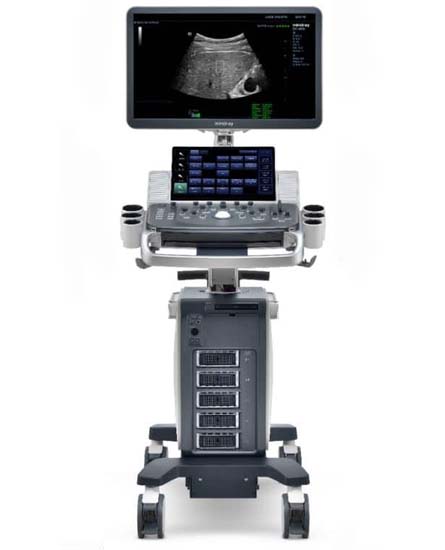 Mindray DC-88
The Mindray DC-88 is one of the best values in this category and has a excellent shared service offering. The beauty of this system is that it you can purchase it new from Probo with an extended warranty. It's an attractive choice because you're looking at an older Philips or GE a new Mindray with an extended warranty. The DC-88 is the best value in the category, particularly with those performing shared service studies.
---
Best Basic Ultrasound Cardiovascular Ultrasound Machines:
Mindray MX7
The refurbished Mindray MX7 excels at superficial imaging and its vascular imaging provides excellent deep 2D penetration for this mid-range priced machine. Through cardiovascular enhancements and advanced workflow technologies, the MX7 helps professionals perform exams with ease and confidence, making it ideal for any clinical environment with its durability and portable design.
Philips Affiniti 50
The Philips Affiniti 50 is a midrange shared service ultrasound machine that was developed from the premium Epiq 7. The Affiniti 50 is shaped after the more expensive Affiniti 70 and offers many similar features and also shares the same technologies as the Epiq series, including QLAB onboard quantification set. Without the added single crystal probes or Shearwave elastography, the Affiniti 50 is the less expensive option.
---
Budget Ultrasound Machines:
The budget category is the hardest section to determine. When you get to this level, what is considered best for your practice is truly dependent upon your needs. However, there's an important thing to say here: in the last 25 years of working in the ultrasound industry, this is the price point that disappoints the most. Cardiac imaging requires high frame rates and good color Doppler. It requires a powerful machine. In other words, you can't buy a Toyota Corolla and expect to win any drag races. With these systems, you're going to have to work harder to get a proper diagnosis. This means making many adjustments to depth, region of interest size, and potentially image resolution in order to what you need. So be forewarned. You will get what you pay for.
What can you buy in this category? If you're doing serious cardiac work, you'll need to look into a much older Vivid or Philips system. For something newer, you'll make some real tradeoffs to find something that has CW Doppler, high frame rates, and good color Doppler. What's best in this category is a moving target and is highly dependent on what's available and it's best to talk with a Probo Sales rep who can tell you the best available system for your needs and budget.
---
Best Portable Cardiovascular Ultrasound Machines:
GE Vivid iq
The GE Vivid iq portable cardiovascular ultrasound machine was the first touchscreen-based premium portable ultrasound machine. Its image quality is like no other portable cardiovascular ultrasound, and the new design provides a surprisingly efficient user experience. This is an outstanding option that has great user feedback. but it lacks a physical keyboard. It has an excellent touchscreen interface that is preferred by some, but not by others.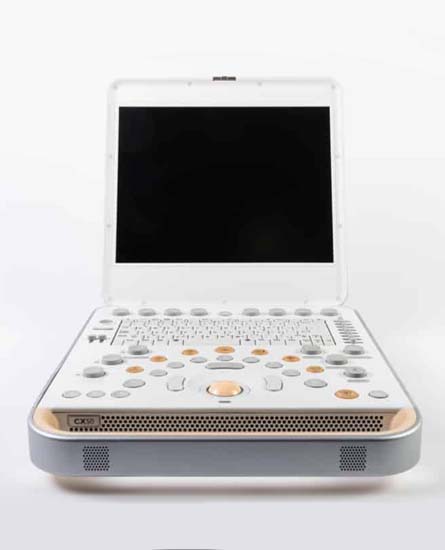 Philips CX50
The Philips CX50 is the choice stable and reliable ultrasound machine if you are looking for a powerful portable ultrasound with high-quality imaging and advanced built-in features for great image quality on difficult-to-image patients/deep penetration. The Philips CX50 takes a backseat to the Vivid iq by some because it's a large, heavier system. However, it does feature a physical keyboard. This system is also soon to be replaced by a more compact ultrasound, which should theoretically bring the price down on the refurbished CX50.
Mindray M8 Elite
The new or refurbished Mindray M8 Elite is our surprise option in this category. It's quickly become our top portable cardiovascular ultrasound system. Because Mindray hasn't really been known for high-end portable cardiac systems, it was a surprise to us, too. Our highly experienced team of sonographers gave it top marks, and it's now become a great option as it's new with a 5-year warranty. This is a great system at a great value.
Get in Touch
With most systems mentioned here, we can offer live virtual demonstrations as well as virtual or in-person training. We also provide free tech support to assist your staff in getting the best out of their ultrasound system. We have a staff of sonographers dedicated to this purpose. No other company outside of
the manufacturers can offer this service.
Our team of ultrasound experts are here to help you find your ultrasound match. Contact us today to learn more about the above systems. More of these buyers guides are coming, so check our Probo Medical YouTube channel for more reviews and buyers guides.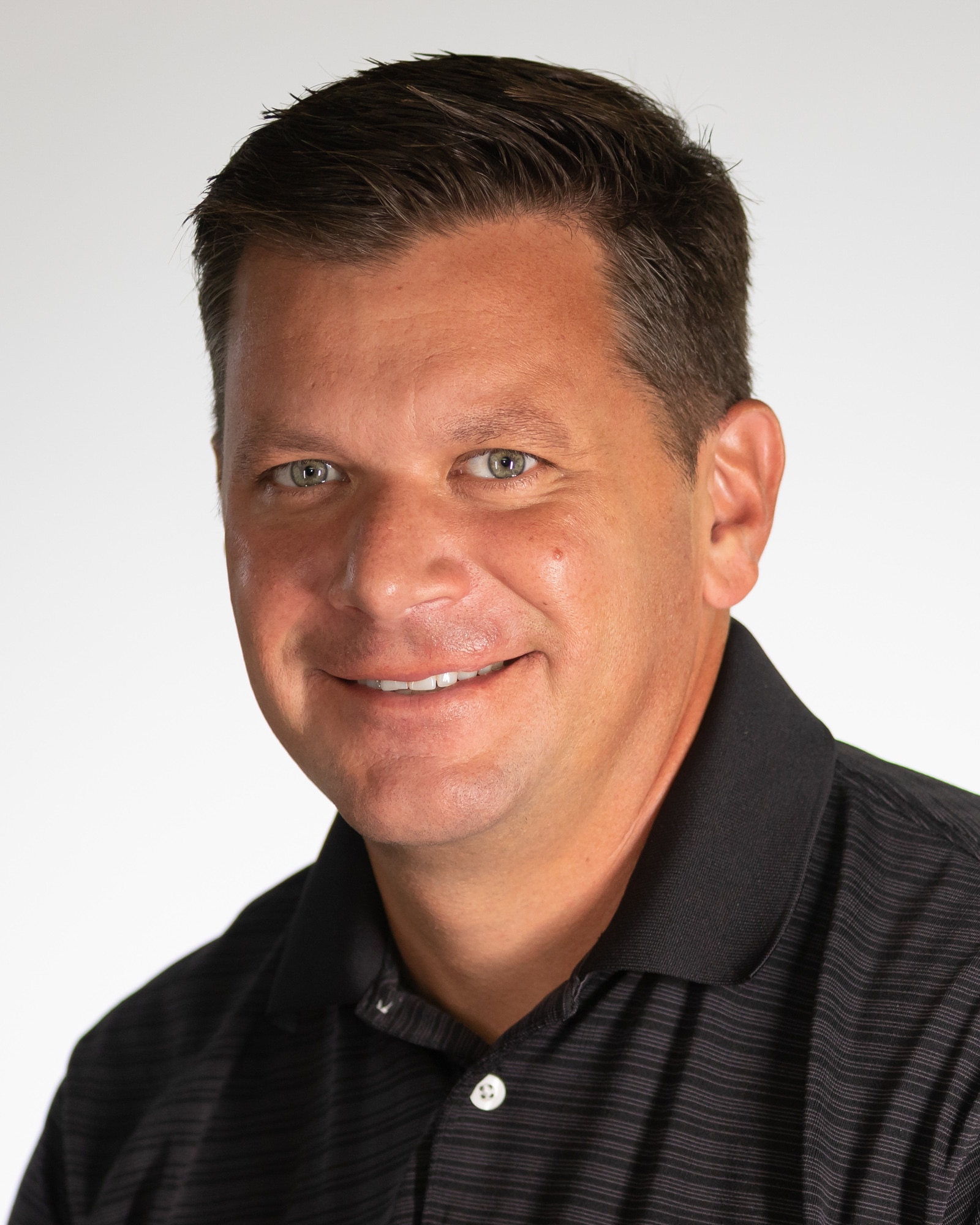 Brian Gill is Probo Medical's Vice President of Marketing. He has more than 20 years of experience in the ultrasound industry. From sales to service to customer support, he has done everything from circuit board repair and on-site service to networking and PACS, to training clinicians on ultrasound equipment. Through the years, Brian has trained more than 500 clinicians on over 100 different ultrasound machines. Currently, Brian is known as the industry expert in evaluating ultrasounds and training users on all makes and models of ultrasound equipment, this includes consulting with manufacturers with equipment evaluations during all stages of product development.