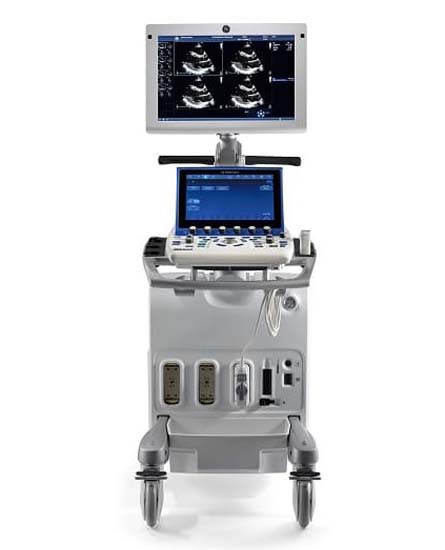 The GE Vivid line of ultrasound equipment is GE's Cardiovascular/Cardiac/Cardiology line of ultrasound systems. The Vivid systems can help you provide ultrasound services across a wide variety of cardiology applications, like Transesophageal, Echo, Color Doppler, and many more. From lightweight, compact and portable to next-generation 4D technology that can be incorporated into your daily routine, GE offers a variety of products to fit a wide range of cardiovascular needs and applications at every budget level. Read below to learn the differences between the GE Vivid cardiovascular ultrasound systems and learn which one is best for you! Part 2 will cover the mid-range Vivid family ultrasound systems.
GE VIVID MID-RANGE SYSTEMS
GE's mid-range Vivid ultrasound systems are console-based systems with high-powered performance. These cardiac ultrasound systems are targeted at cardiologists and other physicians with smaller practices who need a small-footprint system with big-footprint power. In this line of systems, you have the Vivid Signature-Series and the Vivid T-Series.
GE VIVID S5
The GE Vivid S5 cardiovascular ultrasound systems combine miniaturization and versatile diagnostic solutions with impressive performance and excellent image quality. It's a console-based system with a portable, sleek design. Advanced functions, an innovative ergonomic design, and broad shared-service capabilities—including vascular, abdominal, pediatric/fetal, and OB—allowing you to keep the focus on your patients.
GE VIVID S6
The GE Vivid S6 is the higher-end system in the Signature-Series line. Between the Vivid S5 and Vivid S6, the only major difference is the Vivid S6 can run TEE (Transesophageal) ultrasound probes and the S5 cannot. The ergonomic design and easy-to-use features of GE's Vivid S6 allow you to take workflow and productivity to the next level. Excellent performance through a wide range of applications, consistent image quality, innovative miniaturization, comprehensive connectivity options, and a range of advanced, automated tools make this an exceptional cardiovascular and shared-service solution to meet the daily demands of your practice.
GE VIVID T8
The Vivid T8 combines the established cardiac imaging capabilities of GE Vivid systems with exceptional shared services performance of the GE Logiq general imaging or radiology systems. The result is a truly hybrid cardiovascular ultrasound system that is rugged, reliable, robust, and rich with features, yet still affordable and convenient to use. Improved from the S5 and S6, the T8 gets a touchscreen and more probe options. The T8 has the best that the Logiq systems have to offer, like LogiqView and the full line of compact transducers, like the 4C-RS, 8C-RS, E8C-RS, and L6-12-RS transducers, while also having a full suite of cardiac probe options, like the 3Sc-RS, 6S-RS, 6Tc-RS, and pedoff transducers.
GE VIVID T9
The GE Vivid T9 is the newest model in the Vivid T-Series. It also has some of the best features of both the Vivid and Logiq systems combined into a one-value hybrid cardiovascular ultrasound system – rugged, reliable, robust, and rich with features, yet still affordable and easy to use. It has more features than the Vivid T8, like Cardiac IQ and Tricefy Inside, and also has a bigger, clearer, OLED monitor. The T9 also has the option to have two more probe ports than the T8.
GE VIVID S70/S70N
By combining the proven breadth and performance of the Vivid product line with the cSound powerful, software-based beamformer image reconstruction platform, the Vivid S70/S70n takes an ultrasound system to a whole new level – delivering excellent image quality in cardiac as well as shared service at an affordable price. The Vivid S70 is the newest member of the Vivid Signature-Series line and the most powerful mid-range ultrasound system in the entire Vivid family. While it doesn't have the processing power of GE's premium Vivid E95 and Vivid E90 4D cardiac ultrasound systems, the S70's minuscule footprint makes it the perfect cardiac system for offices where space and mobility are top priorities. With its comparable imaging performance and almost identical software-based imaging platform, the Vivid S70 is perfect for any Cardiologist practice, at a more affordable price than the "premium" cardiac systems. There are currently two versions of the Vivid S70, the R1 and newer R2.
HAVE QUESTIONS
If you'd like to learn more about the GE Vivid systems, or if you're still not sure which GE Vivid ultrasound system is for you, call Probo Medical at 866-513-8322. Fill out a form or call us today and take advantage of our current new and refurbished ultrasound system promotions!